Crane Components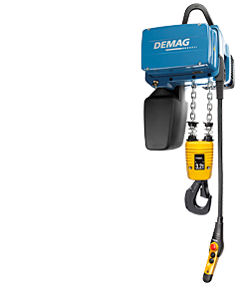 The DC-Pro chain hoist, meets high standards in terms of quality and innovation. The DC-Pro chain hoist is a fully featured, highly versatile chain hoist, which can be installed and put into service in minimum time. Many features that have to be ordered and bought as extras elsewhere are already integrated as standard. The result:
"all inclusive" features at no extra cost

two lifting speeds as standard

improved safety thanks to 24 V contactor control, operating limit switches and elapsed operating time counter as standard

slipping clutch with automatic cut-out by means of speed monitoring

optimum ergonomics and ease of service

main components are maintenance-free for up to 10 years

SWL 80-5000 Kgs
Individual needs require specific solutions. That is why the Demag DMR modular rope hoist was developed . You can benefit from ground-breaking flexibility in all types of applications: from stationary installations to crane systems. For the first time, a rope hoist can be built either in a C-design or co-axial design utilising one basic technology. The extraordinary wide range of possible DMR applications can be extended thanks to smart interfaces and corresponding fittings and accessories.
Choose for yourself:
C-design or co-axial design

Five sizes with load capacities up to 50 tons

Various application types: foot-mounted hoist, low-headroom travelling hoist, double-rail crab and standard-headroom travelling hoist

Control system: smart Safe Control system, conventional contactor control or provided by the customer

Variable or two-stage switching elements

Control concept: wired connection or radio control.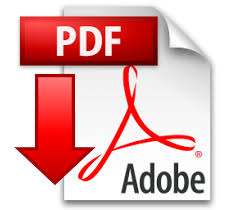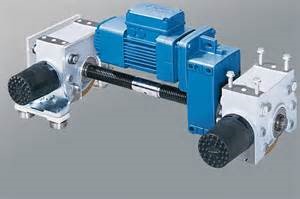 The DRS wheel block system is a versatile travel wheel system and is perfectly integrated into the modular drive system. Eight finely graded sizes with load capacities of up to 40 tonnes per wheel provide the right wheel block for every application. And the large selection of travel wheels and special wheel designs enable them to be adapted to almost any travel rails and operating conditions. Cost-effective and ready to install. Further strengths:
high performance range and maximum load capacity

many travel wheel shapes as standard as well as customer-specific designs

4 variants for connection to the customer's superstructure

high-quality housing with optimum protection of the travel wheels and bearings

high rigidity

direct connection of optional accessories

laser alignment system for wheel blocks on multiple travel units.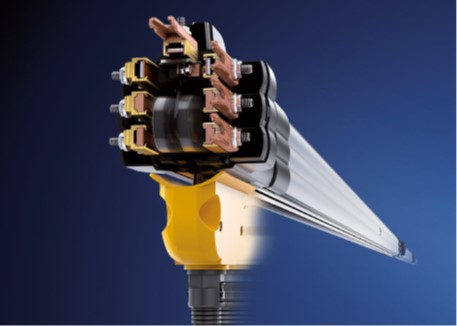 DCL-Pro compact conductor lines set new standards for continuous operation.
DCL-Pro features innovative technology all along the line. The highly rugged enclosure profile has a
low deadweight and its flexible configuration provides for a wide performance range, ensuring safe and
reliable power supply and control signal transfer along straight and curved tracks.