Load monitoring systems
Load cells are strain gauge based transducers which are used to measure load, overload, or tension conditions. Load pins are a version of load cell that are typically installed into machines in the place of solid shafts, whereas load cells act as a direct component in an assembly. Load pins work on the double shear stress method.
Load pins are versatile pieces of equipment and are used in a large variety of applications, such as: cranes, hoisting gear, winches, etc. Rope, chain, and brake anchors, bearing blocks, pivots and shackles, elevators and floor conveyors as well as in applications for the agricultural, aviation, chemical and R&D industries.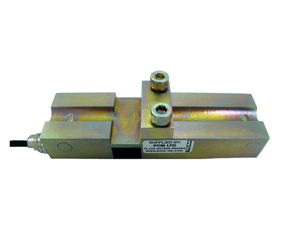 This is a simple transducer that clamps onto the rope at the dead end of a crane system. Mainly used for overload and slack rope detection when coupled with an amplifier and it is recommend that the device is used for overload and slack rope detection only.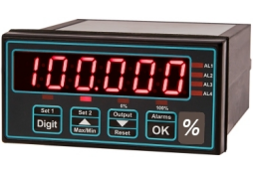 This series of meters accepts industrial sensors to allow various physical measurements to be made, such as weight, temperature, pressure, humidity etc. Different models are available for different sensor types.
The main function of this series is to give a numeric readout of the variable being monitored. Most models include an excitation power output, to power the sensor directly.
Various optional output modules are also available to give alarm relay outputs, analogue output or digital communications, or any combination of these options.
Meters are programmed using front panel push-buttons. The buttons may be locked with a rear switch.
Meters have two power supply options : 100-240 VAC or 11-30VDC
The wireless Load Sensor is a strain gauge based stainless steel tension type sensor. It has the capability of wirelessly transmitting its data to one of our compatible readouts and displays or recording its data locally. Its inbuilt 32MBit memory can hold up to 280 hours of data which can then be downloaded to a PC via its USB cable. The Load Sensor transmits using the worldwide licence free frequency of 2.4GHz on two built in antennas.
Wireless Load Sensor (Load Sense)
The Load Sensor is used with our Handheld Receiver which can read several devices at the same time, (see data sheet WLS3626R for more details), and/or our stand alone Receiver Interface which is used to output the data via RS232/RS422, (see data sheet WLS3627R for more details)
Key Benefits:
Wireless, so easy to install and remove between installations
Transmits data up to a distance of 100m
Transmits data at up to 10 times a second
Internal Memory for up to 280 hours of data
11V to 28V external supply chargeable
Connect to PC via USB
PC software for customer settings
Flexible automatic shutdown to conserve battery
Dual ruggedised internal antennas
Handheld Receiver
Key Benefits:
Reads multiple Load Sensors
Receives data up to a distance of 100m
Receives data at 10 times a second
Connect to PC via USB for user setup
Output data via RS232 / RS422 / USB
Ruggedized rubber case with back stand
Long life rechargeable battery powered