Elca Radio Control Systems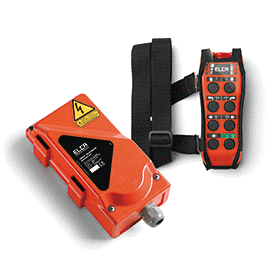 Evo
EVO is the new handheld remote by ELCA, compact, lightweight, ergonomic, suited to command machines and industrial systems in the lifting and handling sectors; it is suited for a variety of application demands. It consists of 6 double step push buttons, 1 auxiliary button for programmable functions, Start and Emergency STOP buttons. The electronics are low-power lithium battery (up to 40 hours of continuous use); it is fully recharged in 4 hours and in 15 minutes you get 3 hours of battery life. The hand control stops in the presence of radio disturbance, and at the next Start, it automatically chooses a new available frequency. The "Function" button can be a momentary/latching (with or without memory) command or a selection command (1, 2, 1 + 2), providing led indication of the active selection. EVO receives signals from the commanded machine via a bi-directional system, and gives indication on 4 available LEDs. The casing is made of ABS with IP65 protection. The activation of the transmitter is protected by an electronic key-code, the auto shut-off is programmable (after 2, 5, 10 minutes of inactivity). The replacement of the transmitter does not affect the previously stored settings (done via a combination directly from the keys of the keypad). The standard package includes: EVO transmitter, MAGO FLEXI receiver, power supply ELCA-CLIP, protective cover, shoulder belt, wrist belt, user manual.
E1 Mia

Mia is the new ELCA radio handset required for the use of industrial lifting and handling machinery and equipment.
Up to 23 on/off commands (2 single, 10 double step buttons, selector 1-0-1, Start and E-Stop (Pld) buttons, proportional potentiometer.
Compact, lightweight, ergonomic with low consumption electronics and Lithium battery, the MIA can provide up to 20 hours autonomy in continuous use (low power warning via bright leds and acoustic signals).
An innovative battery with integrated electronics is charged directly by power supply "ELCA-CLIP" and full recharge in 4 hours (15' sufficient for 3 working hours).
Optional cable with USB connection to external charger.
MIA handset is robust and resistant to harsh operating conditions (ABS casing, release valve, IP65 rating).
Protective cover available for extra protection (optional).
The bi-directional transmission allows the MIA transmitter to receive up to 4 input signals from external source of a machine wired directly to the receiver with each input represented by dedicated led indicators on the transmitter.
A MIA version with high definition display + 8 double step buttons is also available.
The transmitter is activated via an electronic activation key sequence with customizable code.
Automatic shutdown can be programmed at 2-5-10'.
When required, transmitting unit can be quickly replaced by transferring the unique coding key and settings;
this is housed inside the battery compartment, protected by a waterproof closure.
Upon activation the MIA transmitter automatically selects the first free available frequency to have the best signal coverage, in all working environments.
The "Function" button is programmable: impulsive/latched commands, 1/2/1+2, "Master-Slave", "Take-Release", "Tandem". The active selection is displayed on the top led indicators.
Excellence of MIA design has been recognised by the world prestigious IF Design Award.
Each MIA kit includes a transmitting and a receiving unit, power supply "ELCA-CLIP", rechargeable Lithium battery, adjustable shoulder belt, user menu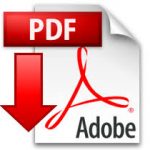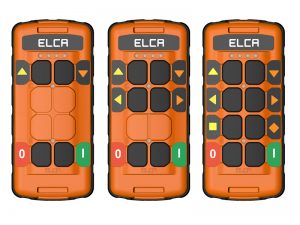 E1 Mini+ (Plus)
MINI+ (Plus) is the new compact pushbutton (200 g) that extends the range of model MINI. Configurations with 4-6-8 commands, clearly indicated; ergonomic shape with easy use with protection gloves, too.
The electronic E1 can be supplied with single or two speed pushbuttons, category 3 Pl d EN ISO 13849-1 stop function; 4 data feedback programmable Led.
Powered by Lithium battery; USB power supply; USB cable Elca-Clip (AA batteries also available optional).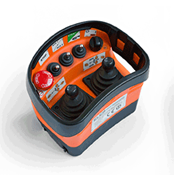 ELCA PUNTO is a waist-portable radio remote control with two joysticks, 3 selectors, removable key and emergency stop button. Perfect for applications that do not require a large number of commands (e.g.. small cranes) and as an alternative to the button-commands (the joystick command allows the operator to perform the main actions without distracting the eye from the load being handled or maneuvered). The available commands are all visible from above and clearly identifiable. IP65 level protection. The receivers combined with PUNTO are both easy to be wired and fixed. Compact, ergonomic, lightweight, it is worn with waist belt or shoulder strap that allows freedom of movement. Maintenance is very easy; all parts are replaceable with commercial tools and the components, of proven quality, are long-lasting. A replaceable parametric protection makes the waist-portable transmitter even more resistant to impacts. The standard package includes: transmitter, receiver, battery charger, 2 rechargeable batteries, waist belt, user manual.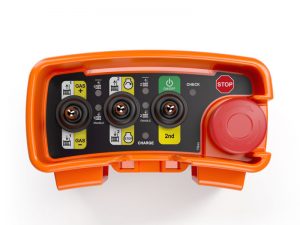 E1 PIC
PIC is a compact waist belt radio control; PICCOLO (small) and lightweight, robust and reliable, it can be used to control forestry winches remotely via radio, with no need for cables.
The standard configuration consists of 3 lever selectors and a mushroom-shaped emergency stop button (it performs a total of 5 commands, and up to 8 with a second function toggle); alternatively, it is available with a dedicated button for the "wind" function.
The customizable, anti-reflection panel is made from durable materials and remains effective even in particularly heavy applications.
4 LEDs can also be provided to visually signal which commands are active (automatic unwind, enable winding, for one or two winches).
The replaceable internal lithium battery offers a continuous transmission of up to 20 hours. The battery can be charged with the ELCA-CLIP USB cable, which enables portable battery chargers to be used with ease.
The emergency stop circuit meets the requirements for systems where safety performance of up to category 3 PL d, according to EN ISO 13849-1, is called for.
Sfera
ELCA SFERA is a waist portable radio for applications requiring a large number of controls; it can mount up to 3 double-axis joysticks, in combination with selectors (up to 5) or buttons (on request). It is possible also to have a configuration with 20 selectors/buttons. It has an integrated belt allowing use with a single hand. The compact and convenient shape allows the operator to enjoy a comfortable usage even for long periods. The case is made of sturdy ABS. SFERA uses GENIO electronics, very reliable and easy to be maintained. Labelling is customisable (option). The standard package includes: transmitter, receiver, battery charger, 2 rechargeable batteries, waist belt, user manual.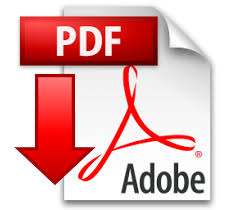 M
The ELCA model M is a real "all -around" waist portable radio remote control, a chameleon created to meet the most different application requirements with both analogue and digital commands. The shape is large and squared, not too bulky, and allows you to install a variety of combinations of actuators (joysticks, selectors, buttons) with maximum visibility and operational convenience. It is also offered as a cable control (commands through cable), in combination with the radio remote control for those who can not give up the remote control even during maintenance operation or when working in areas with restricted radio-frequency access. The radio remote control M, in the version with proportional commands, uses the new programmable electronics BRAVO: up to 8 analogue outputs (proportional joysticks single/double axis, in current or voltage) and up to 28 on/off outputs. It is powered by a rechargeable Li-Ion battery (up to 20 hours of continuous work). The function "Remote Set-Up" allows an initial setup, easily to be performed, without intervening in the receiver, which has a small size and a high degree of protection IP67. All ELCA waist portable controls may have customised labelling. The standard package includes: transmitter, receiver, battery charger, 2 rechargeable batteries, shoulder belt, user manual.