Drive systems
Handling Control Solutions Ltd is able to provide complete bespoke mechanical solutions for drive systems.  Using standard IEC frame size motors shafts flanges foot mounting dimensions can be adapted and modified to suit existing mechanical dimensions to suit for instance fitting to a gearbox with a bespoke flange or shaft arrangement including if required fitting customers pinion gears etc. We can also offer the complete geared motor package if required. Our standard platforms for drive motors include ABB and Demag  – full application engineering is provided. 
In addition we can  provide conversion of standard motors to braked drives utilising the Industry standard Binder brake. Other additions include: integral encoders, heaters, thermistors, forced ventilation.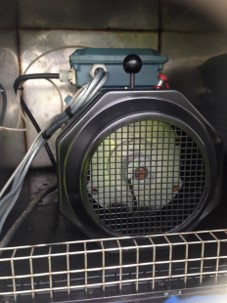 Hoisting gear drive motor for a dam gate frame size 160, 11Kw 6 pole fitted with heaters encoder binder brake c.w. hand release – inverter controlled.